Meet the Family
Carroll was born and raised in Blanket, Texas where his parents still live. His wife Michele was raised in an Air Force family moving often, but moved to San Antonio as a 7th grader, went to Texas A&M, and considers herself a true Texan now.
Carroll and Michele were married in 1994 and were stationed in California and Arkansas during Carroll's Air Force service. They returned home to Texas and moved to Kerrville in 1997.
While Carroll went to work at his dental practice, Michele taught Math, Physics and Chemistry at Tivy High School until 2001 when their daughter, Paige was born. In 2003 they welcomed their second daughter, Meg. Over the years they have added to their family – in the way of animals… currently they have Brittany dogs and a couple of horses.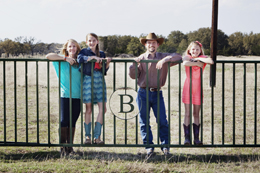 They are members of First United Methodist Church in Kerrville, and Carroll volunteers in his community in a variety of organizations, both past and present, such as The Salvation Army, The Community Foundation, the Parks and Recreation Board, and the Young Men's Business League..
Michele volunteers at the local schools, and has also served organizatio like Christian Women's Job Corps, Partners in Ministry, the Symphony of the Hills, and the Kerr County A&M Club.
Paige enjoys playing cello and paino, and loves running cross country and track.

Meg enjoys playing softball and volleyball, riding horses, basketball, and loves anything involving dogs.

Carroll enjoys cycling, hunting and fly-fishing in his off time.